FREEBIRD HATS
Born out of a love for boots, our passion has evolved into creating a story through more than just the sole. From traditional western styles and modern shapes, we have a hat for every narrative.
THE LINEUP
Made for more than special occasions, our hats are a remedy for feeling your best at any moment. Each is crafted with durable fabrication, a variety of wide brims, and detailed engraved metal work.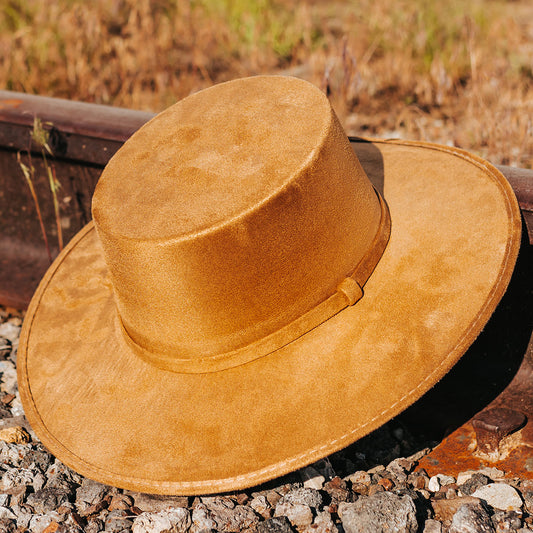 STAY SHADED
Offering an array of traditional silhouettes, our hats feature unique characteristics and compelling colors that outlines our core value of individuality.
Jones - Beige

Jones

Beige

Regular price

$129

Sale price

NOW 0% OFF

Unit price

per

Jones - Brown

Jones

Brown

Regular price

$129

Sale price

NOW 0% OFF

Unit price

per

Jones - Black

Jones

Black

Regular price

$129

Sale price

NOW 0% OFF

Unit price

per

Jones - Rust

Jones

Rust

Regular price

$129

Sale price

NOW 0% OFF

Unit price

per

Jones - Red

Jones

Red

Regular price

$129

Sale price

NOW 0% OFF

Unit price

per

Gemini - Black

Gemini

Black

Regular price

$159

Sale price

NOW 0% OFF

Unit price

per

Gemini - Rust

Gemini

Rust

Regular price

$159

Sale price

NOW 0% OFF

Unit price

per

Gemini - Beige

Gemini

Beige

Regular price

$159

Sale price

NOW 0% OFF

Unit price

per

Gemini - Camel

Gemini

Camel

Regular price

$159

Sale price

NOW 0% OFF

Unit price

per

Wesson - Camel Distressed

Wesson

Camel Distressed

Regular price

$195

Sale price

NOW 0% OFF

Unit price

per

Wesson - Beige Distressed

Wesson

Beige Distressed

Regular price

$195

Sale price

NOW 0% OFF

Unit price

per

Dora - Black

Dora

Black

Regular price

$119

Sale price

NOW 0% OFF

Unit price

per

Dora - Brown

Dora

Brown

Regular price

$119

Sale price

NOW 0% OFF

Unit price

per

Dora - Beige

Dora

Beige

Regular price

$119

Sale price

NOW 0% OFF

Unit price

per

Dora - Camel

Dora

Camel

Regular price

$119

Sale price

NOW 0% OFF

Unit price

per

Lasso - Beige Distressed

Lasso

Beige Distressed

Regular price

$195

Sale price

NOW 0% OFF

Unit price

per

Lasso - Turquoise Distressed

Lasso

Turquoise Distressed

Regular price

$195

Sale price

NOW 0% OFF

Unit price

per

Lasso - Rust Distressed

Lasso

Rust Distressed

Regular price

$195

Sale price

NOW 0% OFF

Unit price

per

Lasso - Pink Distressed

Lasso

Pink Distressed

Regular price

$195

Sale price

NOW 0% OFF

Unit price

per

Wyatt - Beige Distressed

Wyatt

Beige Distressed

Regular price

$195

Sale price

NOW 0% OFF

Unit price

per