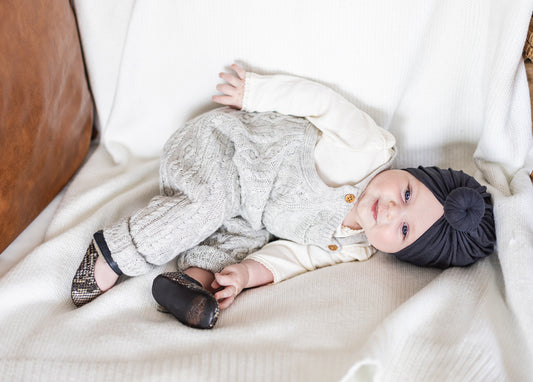 MyFirstFREEBIRD was designed for the little shoe lovers of the world. In this collection you'll find the same craftsmanship, exclusive leathers, and unique styles - only smaller!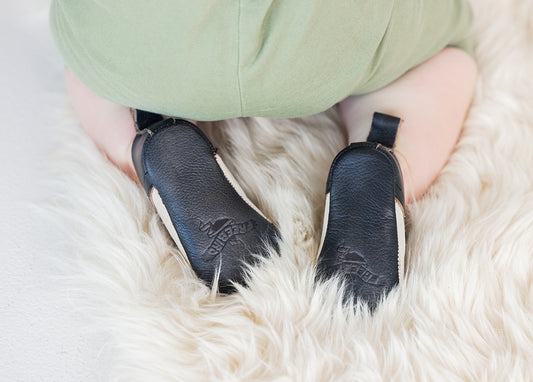 Our designs are individually handcrafted with your little ones in mind. Made with 100% full-grain leather and suede, our soft soles are flexible and provide room for your babies' feet to move and grow.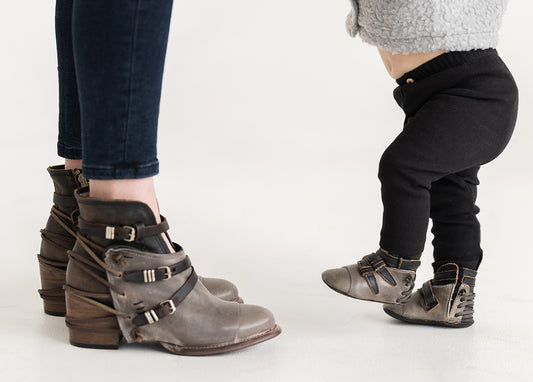 It's a match made in heaven! Let your mini follow in your fashionable footsteps with these iconic women's styles. They're so perfect you'll want them for yourself too!
Baby coal - Taupe

Baby coal

Taupe

Regular price

$79

Sale price

NOW 0% OFF

Unit price

per

Baby coal - Cognac

Baby coal

Cognac

Regular price

$79

Sale price

NOW 0% OFF

Unit price

per

Baby coal - Pink croco

Baby coal

Pink croco

Regular price

$79

Sale price

NOW 0% OFF

Unit price

per

Baby coal - White snake

Baby coal

White snake

Regular price

$79

Sale price

NOW 0% OFF

Unit price

per

Baby coal - Red croco

Baby coal

Red croco

Regular price

$79

Sale price

NOW 0% OFF

Unit price

per

Baby coal - Turquoise croco

Baby coal

Turquoise croco

Regular price

$79

Sale price

NOW 0% OFF

Unit price

per

Baby coal - Stone

Baby coal

Stone

Regular price

$79

Sale price

NOW 0% OFF

Unit price

per

Baby coal - Leopard

Baby coal

Leopard

Regular price

$79

Sale price

NOW 0% OFF

Unit price

per

Baby coal - Dusty rose

Baby coal

Dusty rose

Regular price

$79

Sale price

NOW 0% OFF

Unit price

per

Baby coal - Black

Baby coal

Black

Regular price

$79

Sale price

NOW 0% OFF

Unit price

per

Baby jane - Leopard

Baby jane

Leopard

Regular price

$59

Sale price

NOW 0% OFF

Unit price

per

Baby jane - Stone croco

Baby jane

Stone croco

Regular price

$59

Sale price

NOW 0% OFF

Unit price

per

Baby jane - Black distressed

Baby jane

Black distressed

Regular price

$59

Sale price

NOW 0% OFF

Unit price

per

Baby jane - Blue snake

Baby jane

Blue snake

Regular price

$59

Sale price

NOW 0% OFF

Unit price

per

Baby jane - White snake

Baby jane

White snake

Regular price

$59

Sale price

NOW 0% OFF

Unit price

per

Baby jane - Red croco

Baby jane

Red croco

Regular price

$59

Sale price

NOW 0% OFF

Unit price

per

Baby jane - Turquoise croco

Baby jane

Turquoise croco

Regular price

$59

Sale price

NOW 0% OFF

Unit price

per

Baby kicks - Blue snake

Baby kicks

Blue snake

Regular price

$59

Sale price

NOW 0% OFF

Unit price

per

Baby kicks - Black distressed

Baby kicks

Black distressed

Regular price

$59

Sale price

NOW 0% OFF

Unit price

per

Baby kicks - Pink croco

Baby kicks

Pink croco

Regular price

$59

Sale price

NOW 0% OFF

Unit price

per